Eagnas Professional Electronic Stringing Machine
Model Number: King 3115H model
Special Price : only US$1,495.00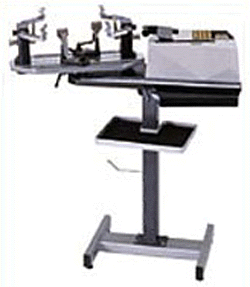 Specifications:
Six-point mounting system with micro-adjustable side-support arms, micro-adjustable head and throat mounting posts
Constant pull tensioning system
Linear ball bearing string gripper
10-90 pound tension range with 0.1 pound accuracy in both pound and kilogram scales
360 degree swivel turntable with brake
Diamond-coated, dual-action metal swivel clamps (fixed clamps)
Handle any diagonal stringing (fan patterned frames)
Gross weight: 92LBS (41.82KGS)
Package dimensions: 32.1X25.7X15.5" (81.5X65.3X39.4cm)
Features:
Digital electronic stringing machine with keypad and LED digital display
Electronic pulling and monitoring device eliminates any tension loss during pulling process.
Six-point mounting system provides 10-point support and eliminates any racquet distortion.
2 diamond-coated, dual-action swivel clamps can move in any direction up and down; and can handle all types of racquets without extra accessories.
Automatic self-centering V-shaped side supports handle all types of racquets from long-body to badminton and easy to operate.
All-metal swivel clamp base, easy to operate
Convenient reel holder makes stringing much easier.
Metal tool tray with pad
Metal machine base with level-adjustable pads
Height adjustable to string in a more relaxed posture, easy to adjust
Higher/lower cross string tension selection
Higher/lower main string tension selection
Knot overtensioning selection
Pounds to kilograms converting key
Microprocessor controlled operations
Internal memory to save instructions
1 year warranty for the electronic tension head
2 years warranty for the string clamps
5 years warranty for all the mechanical parts
Click here to view Customers' Comments on King 3115H stringing machine.
Other brands' compatible models:

1. SP In Japan Co., Ltd.:  King 3115N model, cost about $3,285.00,
                           identical to EAGNAS King 3115H
2. Maxline:      EAGNAS King 3115H model, cost US$1,495.00,
                 much cheaper than other importer.

---
For order information call or write:
Maxline
18116 S. Hobart Blvd.
Gardena, California 90248
U.S.A.
Tel: (310) 523-4641
FAX: (310) 538-9686
E-mail: maxline@eagnas.com
Order online: https://www.eagnas.com/store/index.php
For order in Japan call or write:
Eagnas
1791-2, Mefuki, Noda City
Chiba, 278-0001
Japan
Tel : 047-199-9267 (Japanese)
Fax : 047-199-9265
E-mail: eagnasjp@chic.ocn.ne.jp
Website: www.eagnas.com/japan