Eagnas Tennis Trainer
Great for Beginners and Experts. Fun and Easy to Learn Tennis. Excellent training device for teaching spin. Ideal Practice Aid for indoors and Outdoors.
---
Trainer-E Tennis Trainer $99.00 only $79.00. Click on picture to view larger image.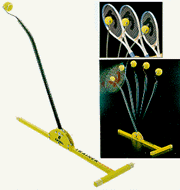 Lghtweight, portable, attractive and durable.
Great for beginners and experts.
Ideal teaching aid for training any level of players.
Practice strokes, volleys, spin, foodwork, etc.
Flexible post designed to create a random pattern of ball delivery.
Being able to spin the ball and adjust the ball to any angle makes this trainer an invaluable practice aid.
Design to protect the racquet frame.
Easy to set up and replace the ball.
Play tennis indoors and outdoors.
Weather proof.
Click here to view customers' comments on Trainer-E Tennis Training Device.
---
For order information call or write:
Maxline
18116 S. Hobart Blvd.
Gardena, California 90248
U.S.A.
Tel: (310) 523-4641
FAX: (310) 538-9686
E-mail: maxline@eagnas.com
Order online: https://www.eagnas.com/store/index.php
For order in Japan call or write:
Eagnas
1791-2, Mefuki, Noda City
Chiba, 278-0001
Japan
Tel : 047-199-9267 (Japanese)
Fax : 047-199-9265
E-mail: eagnasjp@chic.ocn.ne.jp
Website: www.eagnas.com/japan