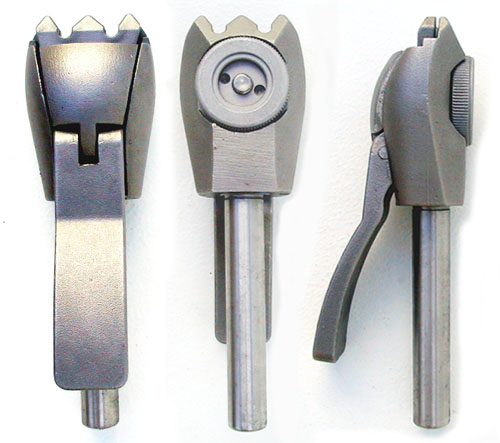 PN-1012 heavy-duty thumb-adjustable swivel clamp, made of stainless steel materials
Stringing has never been as easy and efficient as it is now with the Eagnas thumb-adjustable clamp.
Slim profile design
Thumb-adjustable clamp, stainless steel
Three teeth with extra large gripping surface made much easier stringing
Diamond-coated teeth
Adjusting knob conveniently located for space saving, can be turned with fingers.
Easy to adjust
Secure any string
Heavy-duty stainless steel mechanism increases life.
For all the Eagnas stringing machines with dual-action swivel clamp feature
1 piece per package
Click here to view customers' comments on PN-1012 clamp.
---
Which stringing machines have this style of swivel clamp?


| | |
| --- | --- |
| Vendor | Stringing Machine Models |
| Babolat: | Sensor, Sensor Export |
| Eagnas: | Combo 3800, Flash 930, Flash 960, Plus 8000, Smart 808, Smart 850, Smart 909, Smart 3000, Smart 3000T, Smart 4000, Smart 5000, Smart 6000. Smart 6000T |

I need a new clamp for my Hawk 800 machine, let me know if its possible and how much it would cost?


Yes, you can get the latest clamp PN-1012.

Customer feedback : March 4, 2006: Thanks so much for the new clamp (PN-1012) it is really great.