Click on model number or picture to view larger image.
Eagnas Electronic Racquet Stringing Machine
Special Price : $429.00 only US$349.00 Free string ($75 value)
PLUS Free Stringing Tools PLUS String & Other Deal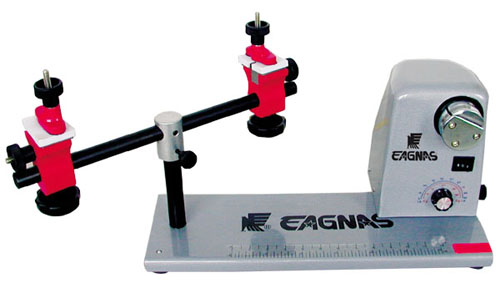 Specifications:
Lightweight portable
Two-point, press-down mounting system, easy to operate
Electronic pull tensioning system
10-90 pound (4.5-40.9 kilograms) tension range in both pound and kilogram scales
360 degree swivel bar with brake
2 floating clamps (flying clamps)
Handle any diagonal stringing (fan patterned frames)
Features:
Electronic tension head (U.S.A. patent pending, Taiwan patent pending, China patent pending)
Two-point, hold-down mounting system provides 6-point supports and provides the maximum operating space.
Easy to mount and release
Micro-adjustable head and throat mounting posts
Accommodates any contour of frame, easy to mount and release
Frame retainers protect against scratching the frames finish.
All-metal machine base with level-adjustable pads
12 frame retainers, manual, tools: Allen wrenches
User's manual
Free stringing tools: 1 DP-507 diagonal cutter, 1 NP-500 needle nose pliers, 1 BS-809 tennis awl, and 1 PN-3092 string mover
Free illustrated stringing tutorial guide: show you how to string racquets step by step
String all racquets: tennis, oversized tennis, widebodies, longbodies, fan patterned, squash, racquetball, and badminton.
1 year warranty for the electronic tension head
2 years warranty for the string clamps
5 years warranty for all the mechanical parts
Options:
Wheeled Carrying Case
Model Number: ST-200C1
Only $50.00
Fantastic design becasue you could store it away easily at home, as well as take it on the road.
Multi-pockets design
Large main compartment
Tool organizer panel
Eight zippered tool storage pockets
Four zippered mesh organizer pockets
Padded base storage compartment
Padded swivel bar storage
Padded tension head compartment
Padded mounting stock compartment
Pull-out handle and multiple grab handles
Click here to view customers' comments on Hawk 20e stringing machine.
Other brands' compatible models:
Hawk 20e detailed comparison chart:
Model
Eagnas:
Hawk 20e
Silent Partner:
e.Stringer
Picture
Price
$429.00 only $349.00
Two-point, hold-down mounting system


Yes
Yes
2 head and throat mounting posts


Yes
Yes
Oversized tennis clamp


1 PN-3089
No
Tennis clamp


1 PN-3090
2
2 badminton floating clamps
No
No
Tension head


DC motor, electronic
AC motor, electric
need 5 minutes warm up
Tension range

10-90 pounds
4.5-40.9 kilograms
30-80 pounds
Input power selection

Yes, 110V or 220V
power input.
Easy to switch
No, can not switch power input
Fuse protection

Yes, fuse protection with On/Off
power switch.
Easy to turn on/off

No, and no On/Off
power switch
Rotatioanl string gripper

Metal, diamond-coated:
Much better and easier.


Plastic using sandpaper as gripping surface
360 degree swivel bar

Yes
Yes
Swivel bar brake

Screw brake system
Screw brake system
Machine base

Metal
Yes
Stringing tools
1 DP-507 diagonal cutter,
1 NP-500 needle nose pliers,
1 BS-809 tennis awl, and
1 PN-3092 string mover
1 Needle nose pliers,
and 1 awl
Status
Much better and offer excellent value
Discontinued
---
---
For order information call or write:
Maxline
18116 S. Hobart Blvd.
Gardena, California 90248
U.S.A.
Tel: (310) 523-4641
FAX: (310) 538-9686
E-mail: maxline@eagnas.com
Order online: https://www.eagnas.com/store/index.php
For order in Japan call or write:
Eagnas
1791-2, Mefuki, Noda City
Chiba, 278-0001
Japan
Tel : 047-199-9267 (Japanese)
Fax : 047-199-9265
E-mail: eagnasjp@chic.ocn.ne.jp
Website: www.eagnas.com/japan