Click on model number or picture to view larger image.
Eagnas Portable Racquet Stringing Machine
Special Price : $795.00 $489.00 only US$479.00 Free String Plus String & Other Deal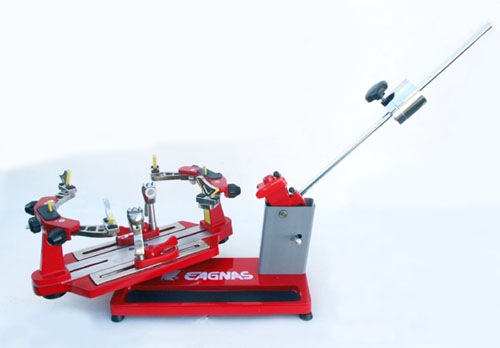 Specifications:
Drop-weight (gravity) tensioning system
Not ratcheted or unidirectional clutch tensioning system .
True constant pull and accurate tension
Just need one pull at any angle
Automatic self lock-in-position tensioner after each pull
10-90 pound tension range in pound scale
360 degree swivel turntable with ball bearing device for very easy and smooth ratation
Two slim diamond-coated, heavy-duty dual-action thumb-adjustable stainless steel swivel clamp (fixed clamps): 2 PN-1012 tennis clamps
Handle any diagonal stringing (fan patterned frames)
Features:
Six-point, suspension mounting system provides 10-point maximum supports and eliminates any racquet distortion.
Micro-adjustable head and throat mounting posts: could move in and out without any adapter.
4 individually adjustable side-support arms (heavy-duty)
Padded head and throat mounting posts secure any frame (including deep V-shaped throats), no cosmetic damage to any frame.
All-metal true automatic tension system grips the string automatically and just need one pull at any angle. See operating procedures.
2 drop weights for constant pull tensioning
Dual-action swivel clamps can move in any direction up and down; and can handle all types of racquets without extra accessories.
2 slim diamond-coated, thumb-adjustable stainless steel swivel clamps (PN-1012). Stringing has never been as easy and efficient as it is now with the Eagnas thumb-adjustable clamp.
All-metal spring-assisted swivel clamp base: much easier to use and no muscle needed. Just need one-eighth turn to lock and release the base. See operating procedures.
Metal machine base with tool storage area and level-adjustable pads
Tools: 1 6mm Allen wrench, 1 4mm Allen wrench, 1 3mm Allen wrench
Free stringing tools: 1 DP-507 diagonal cutter, 1 NP-500 needle nose pliers, 1 BS-809 tennis awl and 1 PN-3092 string mover
User's manual
Free illustrated stringing tutorial guide: show you how to string racquets step by step
String all racquets: tennis, oversized tennis, widebodies, longbodies, fan patterned, squash, racquetball, and badminton.
2 years warranty for the string clamps, clamp bases, string gripper and ratchet device
5 years warranty for all the mechanical parts
Click here to view customers' comments on Logic 90 stringing machine.
Other brands' compatible models:
Logic 90 detailed comparison chart:
---
For order information call or write:
Maxline
18116 S. Hobart Blvd.
Gardena, California 90248
U.S.A.
Tel: (310) 523-4641
FAX: (310) 538-9686
E-mail: maxline@eagnas.com
Order online: https://www.eagnas.com/store/index.php
For order in Japan call or write:
Eagnas
1791-2, Mefuki, Noda City
Chiba, 278-0001
Japan
Tel : 047-199-9267 (Japanese)
Fax : 047-199-9265
E-mail: eagnasjp@chic.ocn.ne.jp
Website: www.eagnas.com/japan